When I picked up my deck stain at the Sherwin Williams store, I realized I'd stumbled onto the perfect scenario for a Seinfeld episode.  I couldn't believe that the beleaguered Seinfeld writers, who appeared to run out of ideas by the 9th season, missed this one.
I had just listened to a history of the Seinfeld show on my six-hour drive to the Upper Peninsula of Michigan.  The audio book went into excruciating detail on the "show about nothing," hammering away at the premise that the episodes focused on the minutiae of everyday life, taking a small incident beyond its logical extreme into the realm of absurdity.
I stared at the array of paint samples in the store.  Each had been given a specific name by someone who had clearly gone soft in the head in the process.  There was "laughing taffy" (i.e. pink), "blue bicycle" which was indistinguishable from "amidship." I didn't know what to make of "bunglehouse blue" other than it sounded like a raunchy bordello.  The color "grayish" looked exactly gray to me, there was no "ish" to it.
I immediately thought of the comedic possibilities for the character Elaine, who wrote the pretentious clothing descriptions for the J. Peterman catalog.  What if she received the assignment to name and to create a story about all the colors in the paint store?
The following is my script.
——-
Scene:  Jerry's Apartment – Elaine and Jerry together.
Elaine:  Jerry, remember that J Peterman description of the dark brown jacket?
Jerry:  Yes, the oilskin jacket that is the color of the most beautiful brown horse you can ever imagine?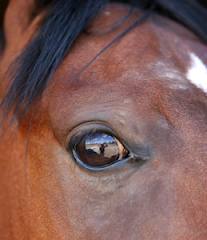 Elaine: Nods agreement.  Peterman told me that description doubled sales.
Jerry: I'm not surprised.  You see there are certain young girls who are, quite frankly, obsessed by horses.  And when they grow up to be women they still have this "je ne sais quoi" about anything that reminds them of a horse.  Some women just go for the horse. Worked for me last month. Continue reading →
Share:




Follow Liza Blue on: