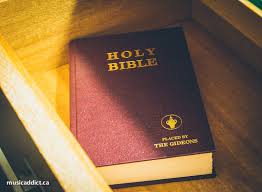 My family rarely stayed in hotel rooms when we were kids, so when I first saw a Gideon Bible I thought that it had been left by a previous occupant named Gideon.  I thought nothing more of it until 1968 when I heard the Beatles sing Rocky Racoon:
Rocky Racoon checked into his room

Only to find Gideons Bible.
A Gideon was not an individual, it was a group and why did these Gideons keep leaving Bibles in hotel rooms?
The Gideons quickly passed into my brain's deep storage locker, but after a forty-year hiatus they came bubbling to the surface when Rocky Raccoon popped up again on the radio.
As a writer on the prowl for quirky characters and story lines, I was intrigued.  I discovered that the Gideons were an evangelical Christian organization founded in 1898 by two traveling salesmen who kept bumping into each other on the road.  They decided that they could multitask by placing Bibles in hotel rooms.
I tried to imagine an early scenario.  It is 1910; the Gideons have begun to deposit Bibles in bedside drawers.  I envision two traveling salesmen sitting at a dreary diner picking at the remains of their apple pie.  A persistent fly circles overhead, just missing the dangling flypaper. Continue reading →
Share:




Follow Liza Blue on: